Ghanaian producer MOG Beatz has been on the neck of dancehall artiste Shatta Wale since last night.
He initially revealed that he received no payment for ten songs he did for Shatta Wale for his 'Reign' album.
The songs he produced for the dancehall artiste in 2018 are 'Don't Baby My Baby', 'Bend Over Squeeze, 'I Regret', 'If I See', 'Give Dem Something', 'Crazy', 'Wonders', 'Rosalinda' and 'Sister Sister.'
He made this revelation when Shatta Wale praised some music producers on Facebook and asked them to expect money from him.
"PAQ, Gigz, Beatzvampire, Beatboy. Realest Producers I have ever worked with in Ghana !!! They just Dream chasers. All they want is "WORK DONE WELL" by Shatta that's all they want from me !!! Me tooo ago spoil all of them with cash. 
What is cash !!! Cash is cash," he wrote.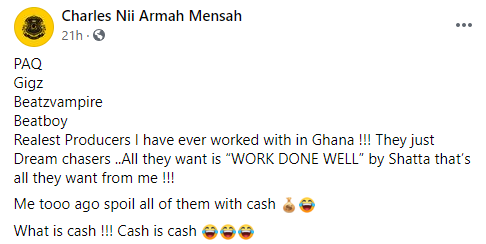 In his response, MOGBeatz wrote: "Money Man @shattawalegh, me I dey see you as a big brother I never had. I know say you no be STINGY like that lol, I produced 10 songs on the #ReignAlbum but ano see no CASH from you since 2018. Seeing this made me laugh sooo hard," MOG tweeted.
Typical of Shatta Wale, he fired back at the young producer. He replied that he paid MOGBeatz GHS100 per song. This has really stoked conversations on how musicians and artists deal with their businesses.
He even showed receipts of monies he sent to MOG's mother. MOG then wrote that Shatta promised more than he delivered, adding that he even said he'd make his mother's life more comfortable.
According to Shatta Wale, when he received the beats, he mixed and mastered the songs himself. He even insinuated that the songs he did on MOG's beats were not successful because he did not do good beats for him.
The 'Melissa' hitmaker said attitudes such as MOG's are the reason he decided to work on his own songs than employ other producers.
Venting his spleen on the matter, Shatta further revealed that MOG did not even charge him for the beats and that he did not make any promises to him.
This matter has opened the Pandora Box of how some music producers are taken for granted by artistes and the lack of proper agreements in works regarding music production.
By: ghanaweekend.com