Typical of venerated Ghanaian rapper Okyeame Kwame, he has, on Valentine's Day, written a piece on love to show how resolute he has been in loving his wife and vice versa.
In the piece posted on his social media handles, the 'Yeeko' hitmaker indicated that the trust they have for each other is so deep that even if his wife sleeps with another man, he won't judge her."I will not even judge my wife or label her as a cheater if she ever falls in the arms of another man," he wrote.
Okyeame Kwame's wife, Annica Nsiah-Apau has also said in an interview on Delay's show that she trusts that her husband will not cheat on her and even if he does, he will forgive him.
According to Okyeame, his write-up today is just a foretaste of what is contained in their yet-to-be-released book titled 'Love Locked Down'.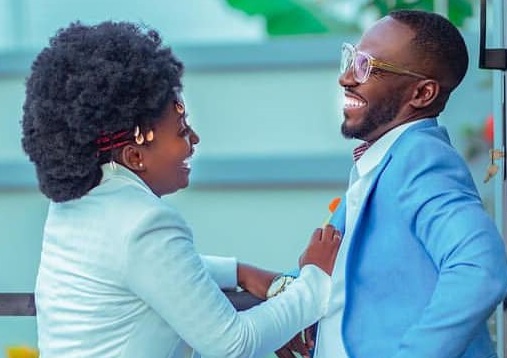 Read his post below:
Sunday reflections
Is man capable of unconditional love?
My wife and I married each other because we love each other dearly. We got married even though there was resistance from both of our families. You will get to read more about that in Love Locked Down coming out next month. I used to care about public opinion back then and thought too much about the worst-case scenario. We married, after arriving at the conviction that the only thing that could break our bond was infidelity.
Over the years, I became increasingly aware that the fear of losing my wife would not come from her cheating on me but from the attachment to the idea that she loves me purely only if she does not desire other men. How unreasonable of me to have clung to such a thought! This woman gave up her career ambitions and some of her dreams to help build the life we have built, and I only measure her love by how well she meets my conditional definition of love?
I realise that the love I have for my children and the love I have for my mother has no conditions. I love them, no matter what. They can stab me, spit on me, insult me, poison me or even try to kill me and my love for them will never waver. But my love for my wife, who has been my best friend and life partner who has sacrificed greatly for me, is conditional on not desiring any another man lest we are done? How selfish and unreasonable is that?
As I have re-evaluated my love for Annica, I have been mindful about dissipating my fears, checking my attachment tendencies, and freeing myself from what natural sexual thoughts she has. Annica, in a Delay Show interview, said that if I cheated she would forgive me. Could I do the same? Four years ago, I would have said, NO! But today, I can say YES!
I am in a place where my love for my wife is not conditional. There is nothing that will make me stop loving her ( even if we are not together ), just as there is nothing that will make me stop loving my mother or my children.
For me, this is my unconditional love (love without fear). I will not even judge my wife or label her as a cheater if she ever falls in the arms of another man. She is an independent human being making her own decisions based on her thoughts and feelings. I will not even have to forgive her because I have no expectations of what she should or should not do.
Forgiveness is not necessary if we accept that people do what they do to themselves and not to us. Mine is to love her – no matter what.
I love unconditionally because love requires no conditions.
As you think about love in your life, honestly assess what conditions you have attached to the love you have for others. Maybe what you thought was love may be an attachment. Maybe it's conditional love.
Marriage taught me to love everyone and everything unconditionally. Happy Valentine's Day to you.
Questions:
1 . Is man capable of unconditional love?
2. Can you love an unfaithful partner?
3. What conditions do you or others often place on love?
#yeeko
Story By: ghanaweekend.com