Sarkodie featured Ace Hood on his song, 'New Guy' in 2015 on which he even promised to build the American rapper a statue.
During an interview on Starr FM, he was asked how he got Ace Hood on his song and he noted that his agents in the states informed him the 'Confident' rapper contacted his team to feature instead of the other way round.
"I didn't make any announcement because basically I kind of doubted it which is bad but then of course such a call makes you feel like it's a prank or something. So, I got my agents in the States who actually contacted me that Ace Hood contacted," he said.
When the host asked for clarification on whether it was Ace Hood that made the approach, Sarkodie replied, "yeah of course. Mostly it happens the other way round when Africans try to get the attention of these people."
However, an ardent fan of Shatta Wale shared the video days ago as fans tease each other and drag artistes after the big announcement concerning Shatta Wale's feature on the 'Black Is King' project to be released midnight July 31, 2020.
Ace Hood chanced on the video and cleared the air about who contacted who.
Although he spoke a few words, he stated that everything Sarkodie made the world believe about the feature is a lie but he wishes him well in all his endeavours.
"A lie smh. But I wish him well," Ace Hood replied to the video.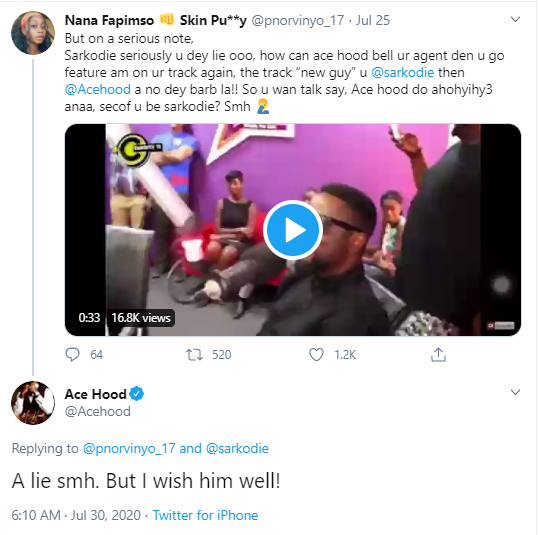 Subscribe to our YouTube channel
Story By: Ghanaweekend.com